Hello, my name is Eve and I'm a registered nurse here at Dorothy House. I'd like to share a little of my story with you and introduce you to Robyn, whose dad was cared for here at the Hospice.
I've been a nurse at Dorothy House for two and a half years now and it's such a special place to work. Our patients are our number one priority – and we're committed to providing them with the very best care. It's wonderful to have this opportunity to share this story with you, because I couldn't do the job I love without your support. Supporters like you have been especially important to us over this past year or so, helping us to cope with the challenges and increased pressure we've been under as a result of Covid-19.
Thanks to friends like you in our local community, we've continued to provide the very best care to patients and families, despite our stretched resources – helping them to make every precious hour count.
Donate today and every hour of care you fund will be doubled
I really hope that you're able to support us and I've got some exciting news to share with you that could make your gift go even further. A group of Dorothy House supporters, realising the pressure the pandemic has put us under, have generously offered to match every donation made to this appeal before Friday 23 April, up to the first £75,000. This means that every hour of care you're able to fund today could effectively be doubled. *
Make a donation
Every hour was precious for Robyn and her dad
We care for people who have been recently diagnosed with a life-limiting illness, are in the course of their illness, or have recently stopped treatment. And, as you know, we're here for many people who are nearing the end of their life. We understand how important those last few days or hours are, so we do whatever we can to make that time special.
That's what we did for Roy and his daughter Robyn, who has kindly agreed to share her story with you. I hope you'll have time to read her letter because it says more than I ever can about the care families receive at Dorothy House.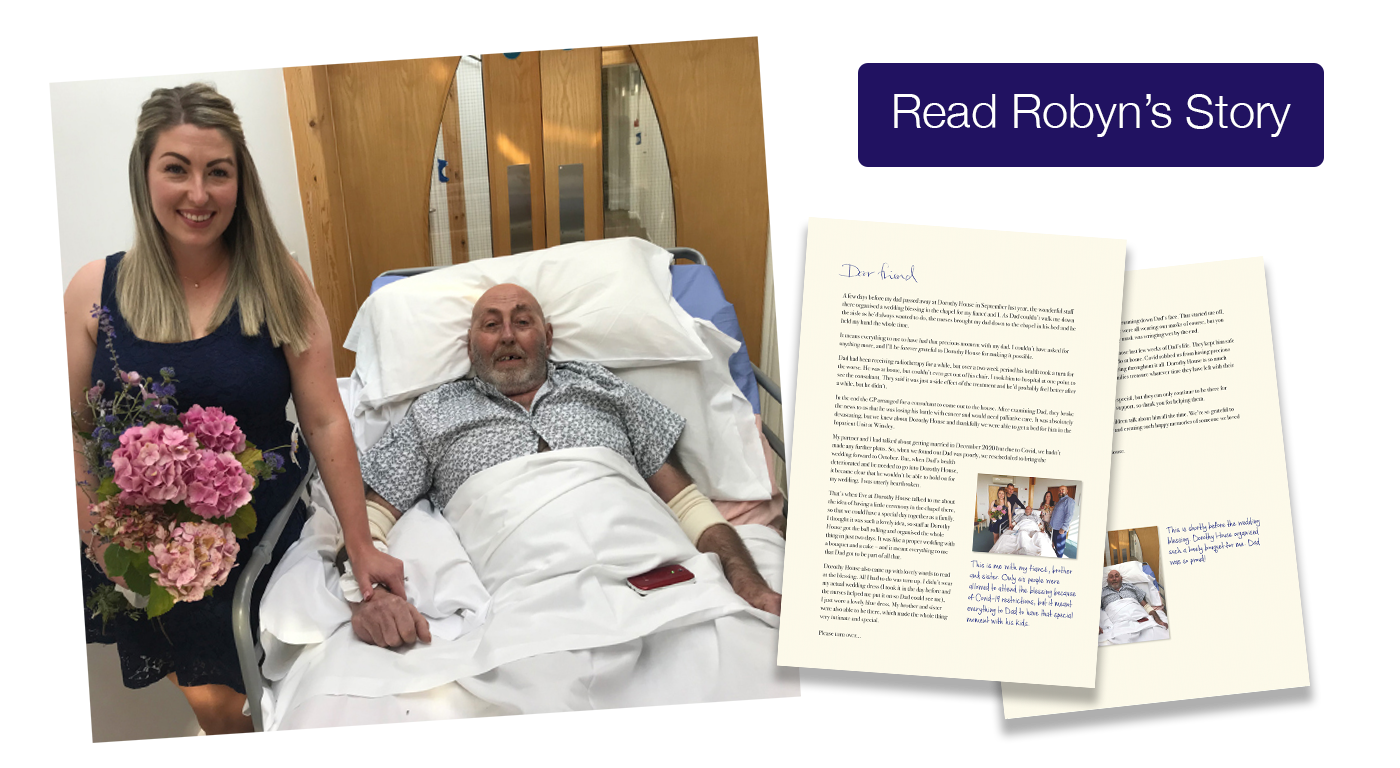 Demand is always high for beds in our Inpatient Unit and we meet daily as a team to discuss every case. When we heard about Roy, it was clear that we had to prioritise a bed for him. Very early on he mentioned to me how his biggest wish was to walk his daughter down the aisle.
Sadly, though, Roy's health deteriorated quicker than anyone expected. After talking as a team about what we could do, we asked Robyn if she would like to have a wedding blessing here at Dorothy House. She loved the idea, so we got everything organised in a couple of days.
Unfortunately, Roy was too poorly to walk Robyn down the aisle, but we gave them the next best thing – I wheeled Roy into the chapel in his bed and he and Robyn held hands every step of the way. There were lots of tears, but it wasn't a sad occasion at all, it was a really beautiful and memorable day for the family.
The caring never stops – no matter what is going on in the world 
Covid-19 has had a huge impact on how we interact with patients. It's not nice having to wear a mask, or gloves when you hold someone's hand. It just doesn't feel as human. Sometimes I just want to give a patient a hug, but I can't.
It's been a challenging time for our Hospice at Home team too, who have continued to provide vital care in the community for people who wish to be cared for at home. With fewer health professionals making home visits due to the pandemic, our nurses and carers have been more crucial than ever to the families that need them.

Will you please provide an hour (or two) of Dorothy House care?
How people spend their final days and hours is something that lives on vividly in the memories of loved ones. That's why we try our best to make that time as individual, meaningful and special as we can.
But it's time we can only continue to provide with your support, so I'm hoping you'll be able to fund an hour, or more, of Dorothy House care.
Donate today and every hour of care you fund will be doubled
By helping to provide an hour of nursing care during a patient's final days here at Dorothy House, or a few hours of overnight palliative care in someone's own home, your support can make all the difference to a family at the most difficult and emotional of times.
Thank you for supporting Dorothy House and taking the time to read both mine and Robyn's story.
Best wishes,

Eve Clarke
Dorothy House Nurse
*Matched funding – Thank you for your generous donation to Dorothy House. Matched Funding will be awarded on a first come, first served basis up to the total amount of £75,000 available during this appeal. Donations received after the £75,000 matched funding has been met will be gratefully received but not eligible within this funding offer.
All money we raise through this appeal will go directly to ensuring Dorothy House can continue to provide vital patient care.
If you would like to download and print off your own donation form Click Here