Owen Vince's story from 'Team Clarendon Academy'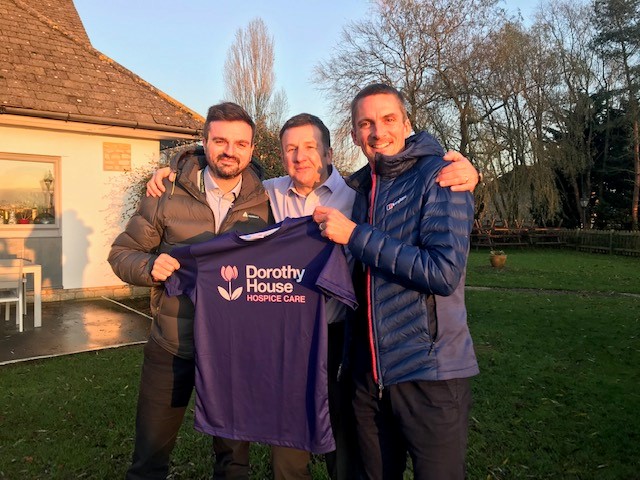 In 2004 my mum was diagnosed with a life-limiting illness and she spent time on a few occasions in Dorothy House before she died at home in February 2006.  So a couple of friends and I made a quick entry to the Bath Half Marathon in March 2006. We hadn't really done any training as cycling is my main sport. And although I've done a lot of fundraising for Dorothy House since then, that was the last half marathon I did – until now! My wife has run three Bath Half Marathon's – never thinking she would ever run a single mile. We always raise money for Dorothy House, purely and simply because of the support they provided for my Mum.
I also had some counselling at Dorothy House when my Dad died a couple of years ago and we did a bit more fundraising then. In fact, in total we've done 15 years of fundraising for the Hospice. It's a really safe and spiritual place for me. So much love exists there. I bring my kids to visit the Dorothy House grounds as it's such a special place.
Last year my wife forwarded me an email about the Bath Half Marathon 2020. I thought it had been a while since I'd done any fundraising and I managed to persuade a couple of my Clarendon Academy colleagues, headteacher Rob Price, and assistant headteacher David Cade, to do it as well. They jumped at the chance as they think the Hospice is an amazing local charity.
We started our fundraising in January 2020, we've all got different fundraising pots to tap into outside school but it'll be a joint push in school. We've got lots of fundraising ideas and we might do some training together.  We've got a creative and media course running in school which would be brilliant to tap into, it'll be fun. It's about the community as a whole – it's amazing how many of our students have had some experience of Dorothy House, either through grandparents or other relatives.
Something like fundraising for the Bath Half Marathon is a really important way of showing the community that the school's teaching team are people who care about people. That's really important for schools, we serve the community, we're not separate from it and Dorothy House is very much part of the West Wiltshire community.
Dorothy House provides care to people with a life-limiting illness, and their families and carers. All care is free of charge and is available wherever and whenever it is needed. All teams work together to ensure that those they support can live well and die well. The Hospice believes that death is a part of life and that everybody should receive outstanding palliative and end of life care. By supporting me to raise £700, you are helping to directly support the work of this vital charity, and it enables them to be there for people when it matters most.
Emily Knight, Event Fundraiser at Dorothy House Hospice Care said: "We're really proud of Owen, his teammates and Clarendon Academy for all their support. We currently have 124 runners taking part for Dorothy House.  People who have their own place can still run for the Hospice and join Team Dotty. Good luck to Owen, Rob and David!"
To support Team Clarendon Academy visit https://www.justgiving.com/fundraising/owen-vince
To run for Dorothy House's Team Dotty visit www.dorothyhouse.org.uk/events/bath-half-marathon-2020/ or email emily.knight@dorothyhouse-hospice.org.uk
Share this page:
https://www.dorothyhouse.org.uk/?p=68325