Event information
5 September, 2021
11:00 am - 4:00 pm
The Bath Half Marathon 2021 takes place on Sunday 5 September and is the largest single day fundraising event in the South West! We'd love you to join Team Dotty and be part of it to help raise vital funds for Dorothy House.
Silver Bond Places
Our Silver Bond places for the Bath Half Marathon are now on sale to the general public. As always our race places are available on a first come, first served basis so please do make sure you secure your place today. We ask for a payment of £37 (plus booking fee) for the place and a guarantee that you will be able to raise £200 or more for Dorothy House.
To buy your Bath Half Marathon 2021 Dorothy House silver bond ticket please follow this link – https://www.eventbrite.co.uk/e/bath-half-marathon-2021-dorothy-house-silver-bond-places-tickets-115885932945?aff=erelexpmlt
Independent Places
If you have already bought your own independent place through Running High, please let us know by downloading and filling in our Bath Half Marathon 2021 – Independent Place Registration Form (below). You can then either e-mail your form back to events@dorothyhouse-hospice.org.uk, or post it to: Fundraising, Dorothy House, Winsley, Bradford on Avon, Wiltshire, BA15 2LE
Download an Independent Place Registration Form here
Team Dotty
Once you've joined Team Dotty we'll send you a fabulous dotty running vest or T-shirt, sponsor forms and Running Handbook full of info and tips to maximise your fundraising and enjoyment of the day.
Dorothy House will also have a dream team marquee in the runner's village on the day to welcome Team Dotty runners before and after the race.  We will have refreshments, lots of cake and the ever-popular free leg massages! There will also be a cheering squad along the route to support our amazing runners along those 13.1 miles.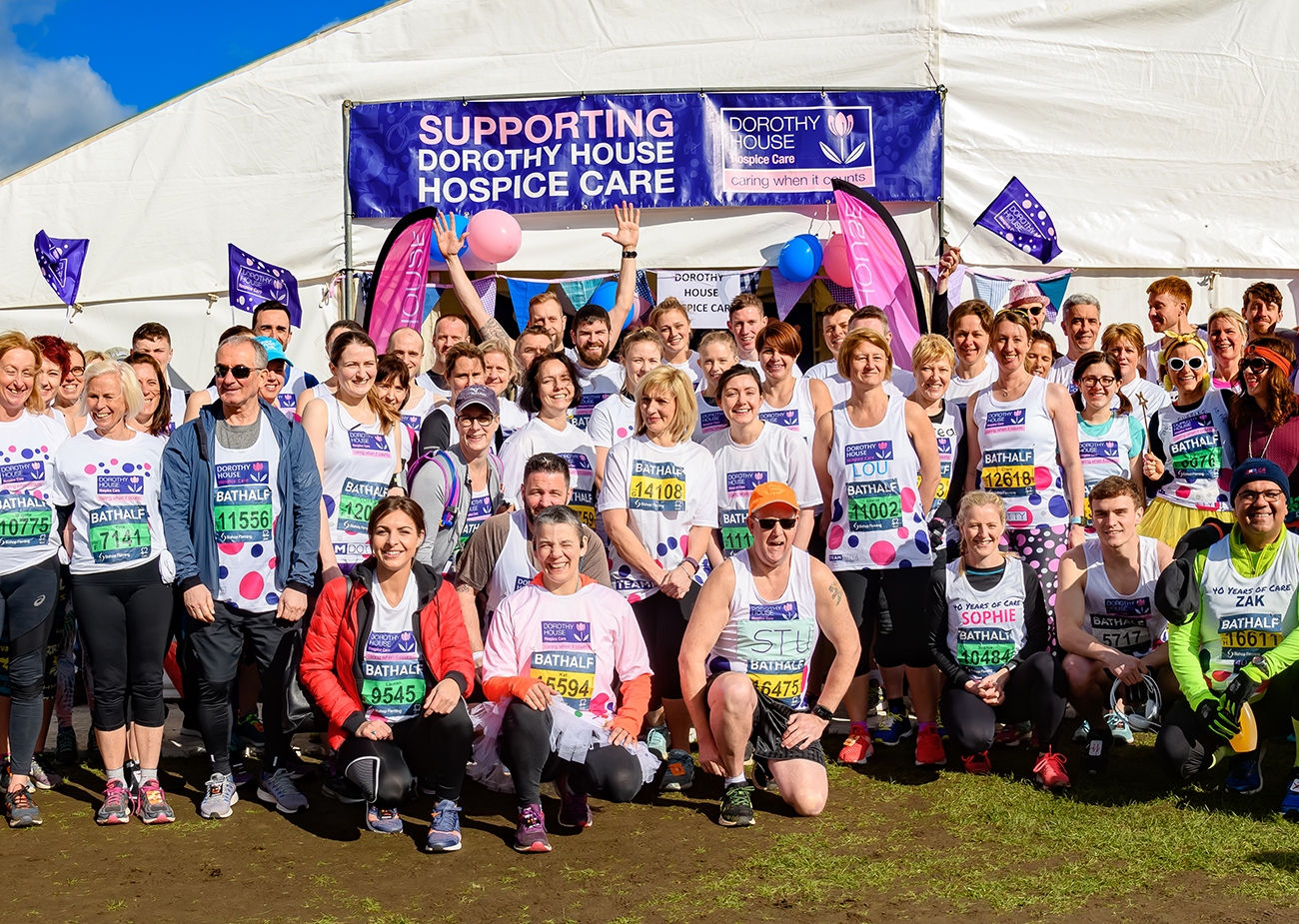 Impact
Dorothy House Hospice Care has been privileged to have charity places in the Bath Half Marathon since 2002. Over the years we've had over 2,320 amazing runners taking part for Team Dotty. These legendary runners have raised over £750,000 for the charity and we are so proud of every single person who's been part of the team. We think that is simply amazing.
We are so grateful to our runners for your amazing support and what an incredible impact each and every person has had in helping us to provide vital care when it counts the most.
For further information please contact the Fundraising Team on:
events@dorothyhouse-hospice.org.uk or on 01225 721 480.
Share this page:
https://www.dorothyhouse.org.uk/?p=66744