You can hold a tea party at home, in your workplace or even at school. All you need to do is register for your FREE Dorothy's Tea Party pack below.
In the pack, we've included everything you need – well, except the tea! So pop the kettle on, stick the cakes in the oven and prep those sarnies! Request your party pack below.
Order your Dorothy's Tea Party pack today and start planning your very own tea (or coffee) party.
Dorothy's Biggest Tea Party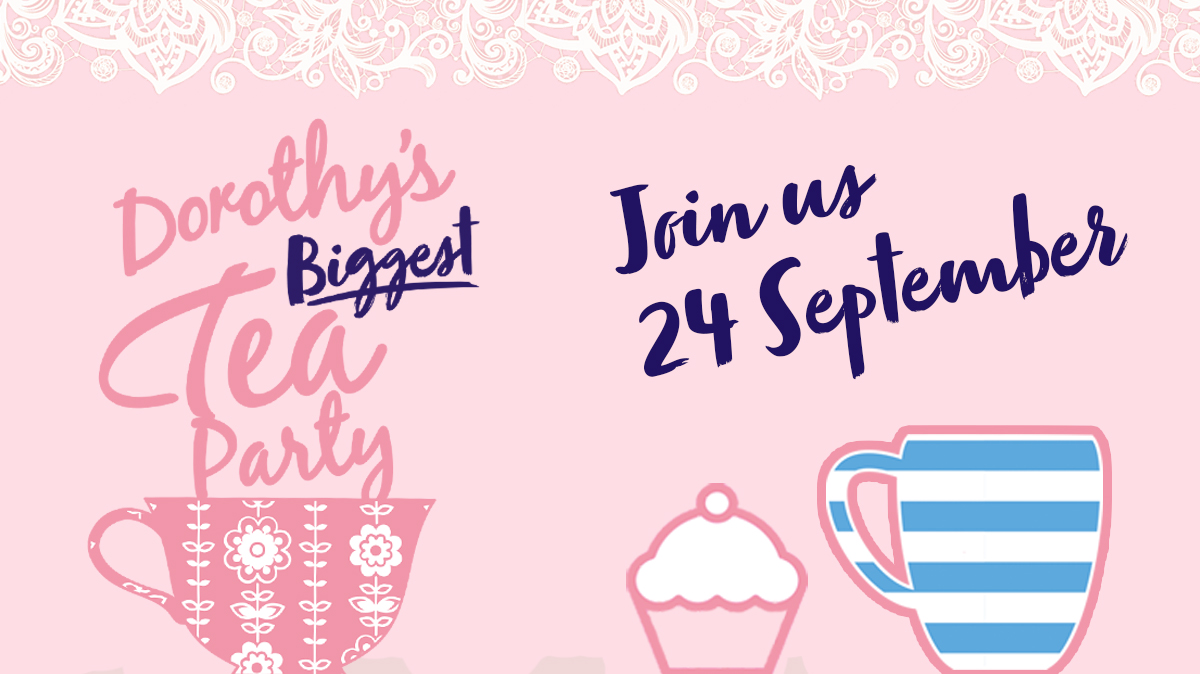 It's time to go BIG! On Friday 24 September we'd love you to join us and be part of a Dorothy's Biggest Tea Party to support your local hospice. You can do this virtually online with friends or colleagues or you can celebrate being back together again and hold an in-person Tea Party. Whatever you decide to do, let's pull out all the stops and have the biggest and best tea party ever!
A successful party is all in the preparation…

Once you receive your party pack you can get to work planning your party! Work out the best date and time, and decide if you will meet online or in person. Then, you can get your invites in the post and work out your perfect pairing of cake and tea!
Hints and tips for your party

Use the invites to ask friends, neighbours, colleagues and family to come along
Advertise your Dorothy's Tea Party by putting a poster in your window, on a bulletin board or somewhere prominent
Share your party on social media (Top tip: Post your party as an event on Facebook)
Get as creative as you like – you don't have to serve tea! Coffee, hot chocolate and juice are all winners!
If you need to stock up on china and serving dishes, pop into your local Dorothy House Shop to pick up a bargain tea set. You can always donate it back once you have finished – helping to raise even more money.
Plan your baking and ask friends to help – the more cakes the merrier!
Decide what donations you'd like for a cuppa and a cake
Plan a fundraising game or two to raise even more money for the Hospice
Display the Donation Form provided for anyone who wants to make a general donation or for people who can't attend on the day
Thank your guests for coming and let them know how much the event raised
Add some 'spice' to all that 'nice'

Want to raise that little bit more and have some extra fun at your Dorothy's Tea Party? Here's some ideas for adding a bit of rice to your tea party:

hold a raffle – ask guests to bring prizes
sell homemade jams, chutneys and pickles
have a second hand book or craft stall
hold a bring-and-buy sale at the same time
play guess how many jelly beans in the jar
have a cookie or cupcake decorating competition (great for kids and adults!)
take any leftover cake into work for more donations

Remember, every single pound raised through a Dorothy's Tea Party goes towards helping us to continue to provide our quality care – when it matters most.
How to pay in the money you raise

Bank Transfer

You can pay in your money by making a bank transfer. Use your surname and first initial, and the code DTP17 as a payment reference. This helps us trace your payments and attribute them to your tea party total.

Account Number: 73821358
Sort Code: 40-14-13
Account Name: Dorothy House
Bank: HSBC Bank plc
Branch: Bristol Cabot Circus

Cheque

You can send in a cheque made out to Dorothy House Hospice – and don't forget to include our GiftAid/Donation form.

Dorothy's Tea Party
Fundraising Team
Dorothy House
Winsley
Bradford on Avon
Wiltshire
BA15 2LE
Need any extras?

If you need additional materials for your party (i.e.: more invites, extra posters, bunting, cake labels, etc.) you can download them from the links below or request printed copies them from the Team.