Hospice Hero Hits Hundred!
In 2020, Owen Hillier MBE inspired all of us within the Dorothy House community, raising an incredible £20,000 by walking 100 metres every day during the first lockdown. Now, two years on, Owen will be celebrating his 100th birthday this April.
World War II veteran Owen was a member of the Air Force Service police for Bomber Command in Kilmington. He later went on to work for Mendip District Council, and until recently, he was an active community volunteer. Over the years he has supported many local groups including the Friends of Frome Hospital and Frome Youth Club. In recognition of his decades of dedication, Owen was a awarded an MBE for his services to the community.
Owen's support for Dorothy House began after the tragic loss of his grandson, James Eyres. James died in a car accident in 2007, and prior to this had been fundraising for Dorothy House in memory of his friend's father, who we cared for. In honour of James and his generous spirit, Owen and his family have continued fundraising for the Hospice ever since.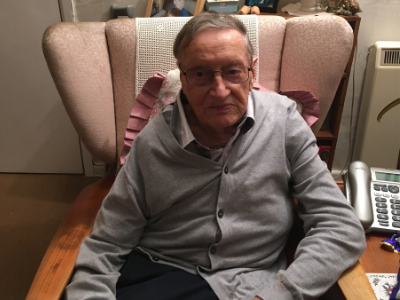 When the pandemic hit in March 2020, Owen felt compelled to support our emergency Stepping Up Appeal after learning how much of an impact the unfolding crisis would have on the Hospice. As a charity fundraiser throughout his life, he wanted to do anything he could to support people in his local community. The £20,000 Owen raised during his monumental walking challenge was vital in helping to fund our ongoing provision of specialist care and support for thousands of patients during this time.
Thanks to their enduring hard work, loyalty and creativity over the last 15 years, Owen and his family have now raised over £90,000 for Dorothy House in memory of James. We are immensely grateful and so proud of Owen for everything he has achieved. Not only has he enabled the care of so many local patients and their families, he has also helped countless local residents due to his many years of service to the community.
From all of us at Dorothy House, we'd like to say a huge thank you to Owen and his family for their years of fundraising, and of course, we'd like to wish him a very happy 100th birthday! Here's to you, Owen!