Claire Morgan is one of our Nurse Specialists, based at our Peasedown St John outreach centre. Here, she shares a few insights into her role, how important it is for our patients, and how much it means to her.
I am privileged to work for Dorothy House as a Nurse Specialist. Our work is often a hidden service, until the moment it's needed.
Sometimes that makes it difficult to put into words the vast nature of all we do, which can create misconceptions. Yet, by talking about our work we help the community to better understand the impact we can have in seeking to optimise a patient's symptoms, minimise their distress and discomfort, while also supporting those closest to them. In many respects, we prefer to remain 'invisible'; making sure our patients remain the centre of all that we do. It's our role to empower, facilitate, minimise fear and give back control, as opposed to stepping in and taking over.
The priority of our care is to support patients with a life-limiting illness to live well and die well. In essence this might sound easy, but the reality can be very different due to complexities that the illness might bring. A patient is referred to a Dorothy House Nurse Specialist when the symptoms of the illness – ranging from physical, emotional or psychological – become challenging and complex.
I am part of a team of experienced nurses, based in the community, who have undertaken extra training and qualifications to hold the title of Nurse Specialist in Palliative and End of Life Care. This involved a clinical assessment and reasoning course, a Specialist Degree qualification and The End of Life Course at Master's level. I have been qualified for 20 years and during this time I've worked in a hospital on a medical assessment unit where I managed acute medical emergencies and as a District Nurse and Team Leader caring for patients with complex long-term illnesses. My experience and extra training enables me to work as an autonomous practitioner, managing my own caseload and time, with the skills to make decisions and recommendations for a patient's care.
My working day is normally planned but this can change very quickly, according to the needs of my patients, so the ability to be adaptable is paramount!
A first assessment with a new patient is often emotionally distressing for the individual and those closest to them; they feel anguish and hopelessness as they think 'there is nothing more that can be done' and experience a sense of shock and loss of control. I remain calm and listen as they acknowledge their fears. A key part of my role is to stabilise what we can and seek to help the patient and their family to regain some control. It is also important to me that the patient feels enabled and empowered, as much as possible.
Part of this process is Advance Care Planning (ACP) where we discuss what's important to the patient, who they would like to be around them, where they would like to be cared for and where would they like to die. We discuss the 'ceiling of treatment' in terms of appropriateness of an admission to hospital (to treat what is reversible) but also assess and advise when the right time will be to allow for a natural and expected death. These conversations can be very difficult and ongoing throughout the journey, but I seek to be sensitive while remaining honest, open and transparent. I carefully assess when the right times are to have these discussions and remain adaptable in the times when it is not possible.
Each visit requires a skilled assessment to determine possible causes of presenting symptoms and to make recommendations about potential intervention. I assess whether symptoms are directly linked to the illness itself or something unrelated (such as an infection) and then discuss the best course for treatment and management. This can be challenging and often takes time to unpick. I may consider introducing or adjusting a medication or treatment which will always involve a clear and informed discussion with the patient and either their GP or Consultant.
As appropriate, I may recommend investigations such as blood tests, x-rays and CT scans. I will decide whether it's appropriate to admit to hospital or remain at home, depending on the patient's wishes and where they are in their journey. I also refer patients to other Dorothy House services such as Physiotherapy, Occupational Therapy, Family Support and Hospice at Home to ensure the right care and interventions are delivered to support the patient in their preferred place of care. Occasionally, more fascinating interventions include expediting a marriage (which I have been privileged to be a part of), assistance to arrange a final holiday, coordinating help with financial concerns or support to achieve a lifelong wish.
Another significant part of my role is to work within the complexities of families to support the patient's loved ones, who are equally as important as the patient. The impact of an illness will significantly affect those around the patient and each family dynamic is unique; from the elderly couple who have been together longer than they have been apart, to the young family with three small children, to the person who lives alone and knows just one neighbour, or the young lad who just moved to the area for work. By remaining adaptable and sensitive I can navigate difficult relationship dynamics, uniquely respond to each situation, identify safeguarding concerns and ensure those most vulnerable in my care are listened to and advocated for. This includes patients that are harder to reach such as the homeless and those involved in substance abuse.
I continue work with the patients to manage and monitor their condition, optimise symptom control, respond to any changes or deterioration as they die and advise on what to expect to minimise distress and discomfort, as much as is possible. This will often include answering questions, relieving fears, advising on syringe driver medication and making changes to care support.
Sometimes, despite all efforts to optimise symptom control and with interventions in place to support the patient and their loved ones, it may not be possible for the patient to be cared for or die in their preferred place of death. I cannot anticipate every scenario, but I can build a relationship on a foundation of honest communication with those in my care. It is vital to acknowledge, sensitively and compassionately, when something can't be fixed and walk alongside the patient and their loved ones through the uncertainty that this journey brings. Part of my day may also include a visit with a bereaved relative to offer ongoing support.
Despite being an autonomous practitioner, I work closely with other professionals to ensure that the best care is delivered. I meet regularly with GPs, District Nurses, social services, and community teams and provide teaching and education. I also work closely with Consultants, Oncology and other specialist services – which include many phone calls! Audits and outcome measures help to improve practice, but also put demands on my time, and documentation, albeit necessary, consumes the rest of my working day. I meet weekly with the rest of the Nurse Specialist Team, a Dorothy House Medic and the wider professional team to discuss those in our care. This is an important part of the work that we do to support each other and share ideas.
I never take for granted the privilege of walking alongside a patient and their family on what can be the most difficult, challenging, sensitive and intimate time of their life; to seek for them to live and die as well as is possible, and for them to feel that they are the centre of all that I do for them. The nurses each bring their whole person to this role and invest so much of themselves into our work. At the end of the day, it's important we take time to reflect and self-care which, often for me, means a long dog walk and quality time with my family.
"… a ray of sunshine in a very dark storm"
John Sibley's wife, Barb, was looked after by Dorothy House Nurse Specialist Claire Morgan. Here, he shares his experiences.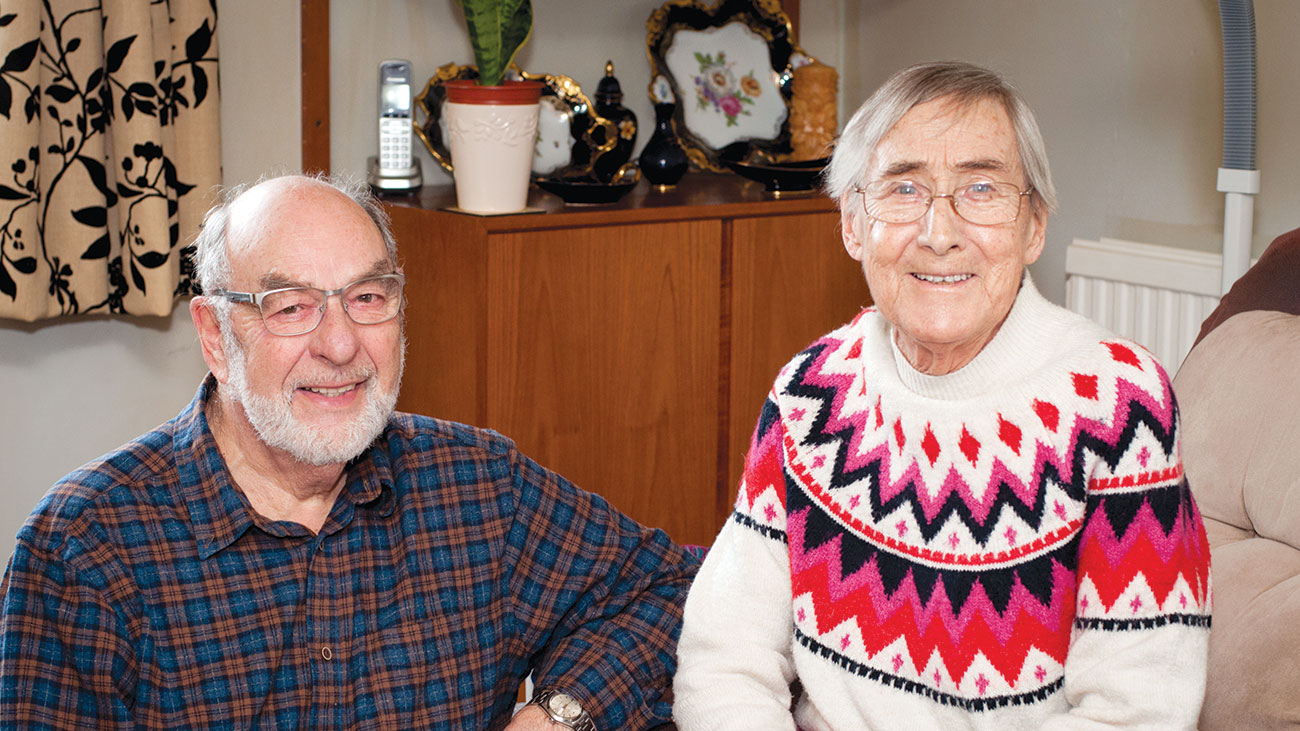 My wife and I first met Claire when she came to our house and she visited us at least once every week. She gave us her mobile number in case we needed to phone her about anything. If she didn't answer she'd get back to us very quickly – or someone else would.
We both looked forward to Claire's visits enormously. She was always bright, positive, calm, sympathetic and empathetic. She made us both feel very much at ease, but she also didn't pull any punches. If there was something serious she had to say, she said it, but with a care and desire to support.
For me she could not have been more supportive. Her ability to arrange things was invaluable. For instance – Barb was provided with a wheelchair and a wheeled walking frame, then later pressure socks, and a special cushion. There was a bed aid, too, to help her get in and out of bed (which turned out not to be very useful but even that was speedily removed). When Claire organised things, they arrived within a day or so and if there was something we no longer needed, it was taken away so our home wasn't cluttered. This all made Barb's life that little bit easier.
Claire always kept me fully informed with her view of immediate issues and her opinion of the medium-term prognosis. Two weeks before Barb died, Claire told me that I should expect the end in weeks, not months, and she was right.
The Monday before Barb died, Claire suggested that we should have a Hospice at Home Carer. It would help Barb and help me. She put that in place on the same day, and that enabled me to sleep well for the first time in many months.
It is not an exaggeration to claim she was a ray of sunshine in a very dark storm, but always edged with reality.