Our latest Ubiety venture will see our much-loved products take centre stage in an indulgent pampering experience at The Soul Spa in Bath.
This boutique wellbeing practice has been offering meditations and Sound Baths, alongside practice rooms with traditional complimentary therapies for the past three years. Despite the challenges of the pandemic, it has stayed open as a welcome source of mental health support in the community.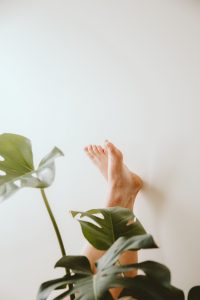 Ubiety was born out a love of aromatherapy and was inspired by the incredible treatments offered by the Complimentary Therapies Team at Dorothy House. Each one of our products, – from our indulgent, hand poured candles to our soothing, natural body care range – aims to promote mindfulness and wellbeing. Plus, with 100% of the profits supporting our work, you can rely on pure, unselfish indulgence.
Our collaboration with The Soul Spa will see customers being able to enjoy a multi-sensory and immersive experience, with three signature treatments to choose from:
The Deeper than Skin Facial uses traditional techniques to cleanse, massage and moisturise. In addition, the experience is elevated with an aromatherapy hand massage and positive affirmations.
The Your Ubiety Body Massage is a vegan, holistic, aromatherapy massage that combines sensory elements. Tailored specifically to your needs, you'll have a consultation with your therapist beforehand and will be able to choose your own essential oil blends and the sounds you relax to.
The Your Feet with Wings Pedicure combines meditation with a full aromatherapy based treatment to soak, wrap, scrub, massage and moisturise.
Each of these treatments feature our Birchwater and Neroli Facial Mist, while the moisturising element of our pedicure is provided by our Frankincense and Lavender Body Salve – bliss!
The Soul Spa are also offering a 'pay it forward' scheme, where for every tenth session booked by a client, a carer in the community will receive a free treatment. Local businesses inject so much into our economy, so by offering ways to support staff wellbeing, it's a great way to benefit both their company and their staff. The Soul Spa and Ubiety treatments offer just that.
Bookings can be made over at https://www.thesoulspa.co.uk/ubiety-treatments. Whether you're looking for a gift for someone special, or simply want to treat yourself, Ubiety spa treatments are the ultimate unselfish indulgence.