Santa and Elf Run 2023
3 December, 2023 9:30 am - 2:00 pm
Dorothy House Winsley
Sign up!
Welcome to our Santa and Elf Run 2023; our much-loved annual festive fun run – back at Dorothy House Hospice and Winsley Cricket Club!
Our Christmassy run is open to all ages and takes place along a 2.5km course through the beautiful grounds of Dorothy House and beyond! Participants can choose to do the 2.5km route once or twice to make it a 5km run.
The race starts at 11am, with sign in open from 9:30am and a warm up at 10:50am.
You can read all about last year's Santa and Elf Run here!
Festive attire
All paying entrants receive festive attire and yummy refreshments after the run.
Children (aged 2 to 11) – We'll provide a festive elf hat to add to your own elf outfit.
Participants aged 12+ – You'll get a Santa hat, beard, Santa jacket and Santa trousers (people usually wear light running clothes underneath – it can get hot!). Please bring your own belt.
Download map HERE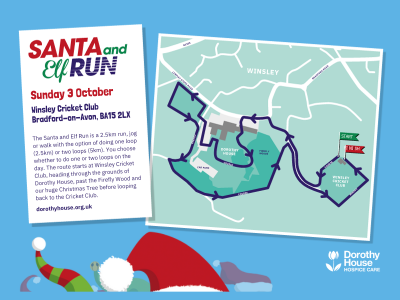 Sponsorship
All adult entrants are asked to aim to raise sponsorship of £30 OR to make a suggested donation of £30 instead of raising sponsorship for Dorothy House. Full event details and sponsorship forms will be e-mailed to all registered entrants.
Our goal is to support more people across our 700sq mile area because we believe that everyone with a life-limiting illness should be able to live to their fullest potential, and – when the time comes – die a peaceful, dignified and well­ supported death. But we can only achieve this with the help of people like you.
Here's an idea of what your fundraising could pay for:
£23 could fund one hour of overnight care, provided by one of our compassionate, skilled and experienced Hospice at Home Carers.
£75 could fund an expert counsellor to run a support group session for young adults with a life-limiting illness, helping them feel less alone.
£120 could fund a morning of care provided by a Community Nurse Specialist, helping patients manage pain, discomfort, emotional distress and coordinating their care.
You can learn more about how your money helps here.
Key information

Entry Ages
The Santa and Elf Run is open to all ages. Runners under 16 must be accompanied by an adult entrant. For full terms and conditions of entry please scroll down.

Signing In
Please make sure to visit the registration desk at the event to sign in and receive either your FREE Elf Hat or FREE Santa Suit.

Supporters
Friends and family are very welcome to come and cheer on the Santa and Elf Run either along the route or at the end as they pass the finishing line at Winsley Cricket Club. Refreshments will be available for supporters to buy from the Cricket Club.

Parking
Free parking is available at the Hospice.  All entrants and supporters will be directed into the car park by marshals.

Dogs
Dogs are welcome to take part in the run (owners must pick up any fouling).
The route

The Santa and Elf Run is a 2.5km run, jog or walk with the option of doing one loop (2.5km) or two loops (5km). You choose whether to do one or two loops on the day. The route starts at Winsley Cricket Club, heading through the grounds of Dorothy House, past the Firefly Wood and our huge Christmas Tree before looping back to the Cricket Club.

A downloadable of the exact route will be available soon.
Terms and Conditions

All paying registrants (PR) must complete and sign a registration form or enter online before taking part.  Each PR needs to ensure that every member of their party has given the PR their permission to enter them into the event and also given permission to submit their name and contact details.  These details will be held by Enthuse (for online entrants) and Dorothy House Hospice Care for the purpose of administering this event.  All children aged 16 and under must be accompanied by a paying adult who will be responsible for their safety throughout the event.

The deadline for submitting paper entry forms is Friday 24 November 2023 – please return them to Fundraising, Dorothy House, Winsley, Bradford on Avon, Wiltshire, BA15 2LE.  Online entry will remain open until the event starts.

The entry fee for the Santa and Elf Run is free for children aged under 2 years, £7.50 for children aged 2-11 (receive free elf hat) and £15 for participants aged 12+ (receive a free Santa suit). An appropriate festive accessory will be provided per paying entrant.

By participating in this event, all adult entrants agree to raise at least £30 in sponsorship or to make a personal donation instead of raising sponsorship (the amount is your choice but we suggest a minimum of £30). All sponsorship to be submitted to Dorothy House by Sunday 21 January 2024.

The entry fee covers expenses only and is non-refundable.  Any entrant who is unable to take part in the event should notify Dorothy House as soon as possible.

Dogs are allowed to accompany runners on the route but are not permitted inside any of the buildings. Any participant bringing a dog must act in a responsible manner by making sure that it is:

Kept on a lead at all times and any usual equipment (muzzle / harness etc.) used to control the dog is employed on the day.
Wearing a collar with a clearly identifiable tag.
Adequately supplied with water to keep it hydrated.

Please be aware that it is the responsibility of all dog owners to clean up and dispose of any fouling responsibly.

The course is multi-terrain and includes roads, footpaths and steps. Sensible footwear must be worn and care taken.

The Santa and Elf Run is limited to 400 runners.

All participants enter the run at their own risk and should not take part unless medically fit to run the route and complete the distance within two hours. If you or any participant has a medical condition which could be affected by exercise, they should obtain their doctor's approval before participating.

In no event shall Dorothy House be liable for any injuries, loss or damages whatsoever, including indirect, punitive, special, incidental or consequential losses connected with any aspect of this run.

Entrants should be aware that photographs taken during the run may be used to publicise the event and the work of the hospice. If a participant does not wish to be photographed, they should inform the official photographers and social media team (who will be clearly identifiable), and they will be supplied with a discrete lanyard so that their preferences are adhered to at all times.

By signing the entry form (online or offline) participants agree to follow the reasonable directions of Dorothy House, the event marshals, and abide by the Terms and Conditions of entry for the Santa and Elf Run.

Dorothy House reserves the right to cancel this event at any time due to unforeseen circumstances.
Volunteers - we need you!

Thank you to all our amazing volunteers who help make this event happen – we couldn't do it without you!

Jobs will include registration, running a raffle, marshalling the route, among other things. We are aiming to have 250 participants this year (up from 170 last year) so we've got a big job on our hands and need your help!

Christmas jumpers and festive gear is encouraged!
Corporate support

We're back for another year with our brilliant Santa and Elf Run with our friends at Winsley Cricket Club! Plenty of room for your business to get involved, we're still looking for a corporate sponsor, with packages available at various price point. Also if you're looking for a fun 5k to do with colleagues this is the perfect event too! If you're interested in sponsoring and/or taking part, please email Community and Events Fundraiser Dan Varley on dan.varley@dorothyhouse-hospice.org.uk.