Dorothy House exhibits at TedXBath
As part of our award-winning partner project with the Royal United Hospitals, Bath, we took our VR headsets to the TedXBath Innovation Lab, at the Forum, Bath on 14th October.
We loved sharing how we're using Virtual Reality to enhance our patient's wellbeing and symptom control and took part in an exciting afternoon of inspiring talks, performances and unlimited ideas.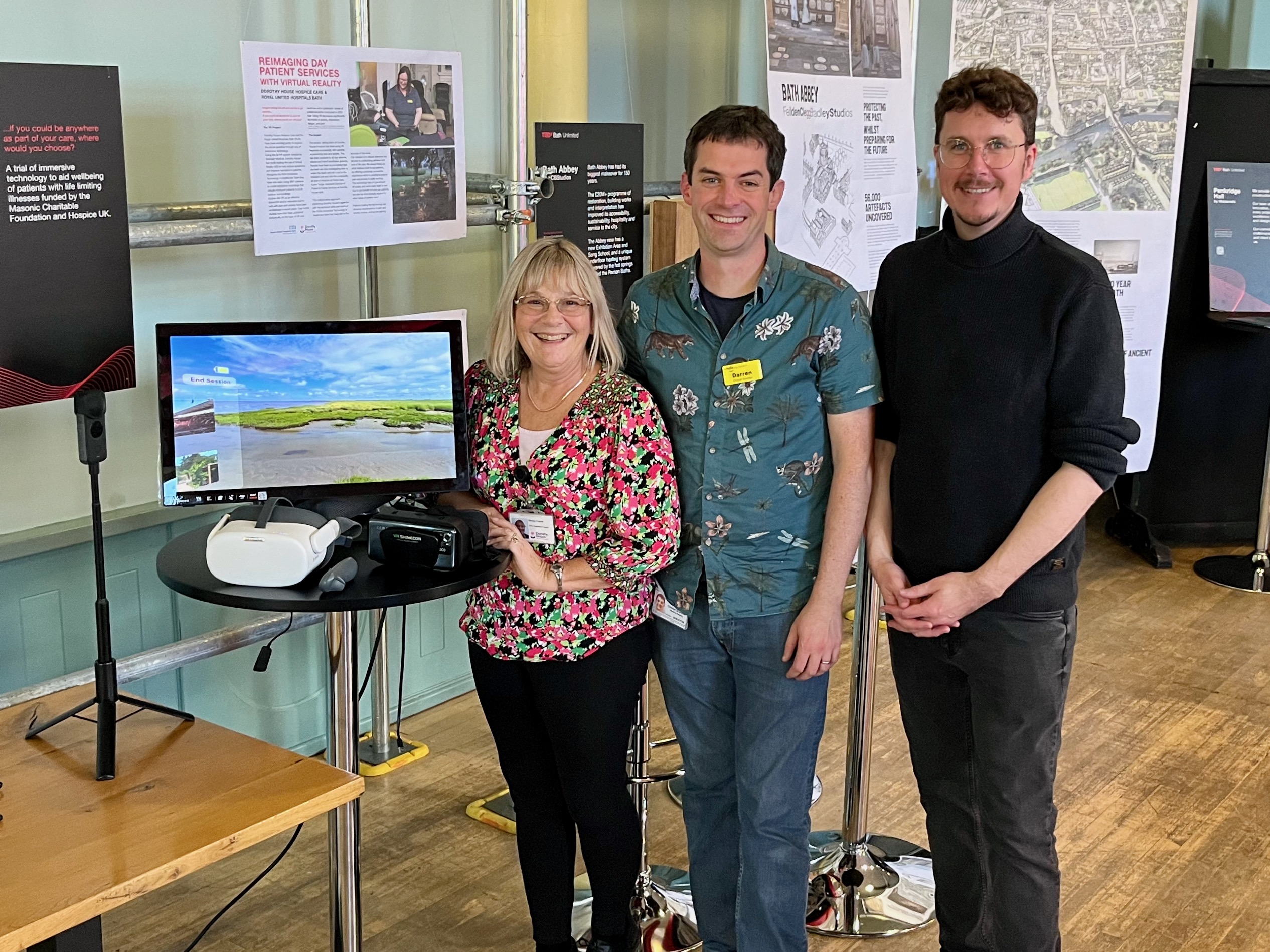 Innovative Care
The VR project is a trial of immersive technology to aid wellbeing of patients with life limiting illnesses funded by the Masonic Charitable Foundation and Hospice UK.
" Imagine being unwell and unable to go outside…
– if you could be anywhere as part of your care, where would you choose?
Dorothy House Hospice Care and the Royal United Hospitals Bath (RUH) have been working jointly to explore the above question through use of immersive technology.
Using the Dr VR system created by Rescape Medical, Dorothy House has been trialling the use of Virtual Reality (VR) to help reduce symptoms and improve relaxation in patients. Alongside the RUH Immersive Technology in Healthcare Team they have also been using 360° cameras to create immersive recordings that virtually transport patients to local outdoor surroundings.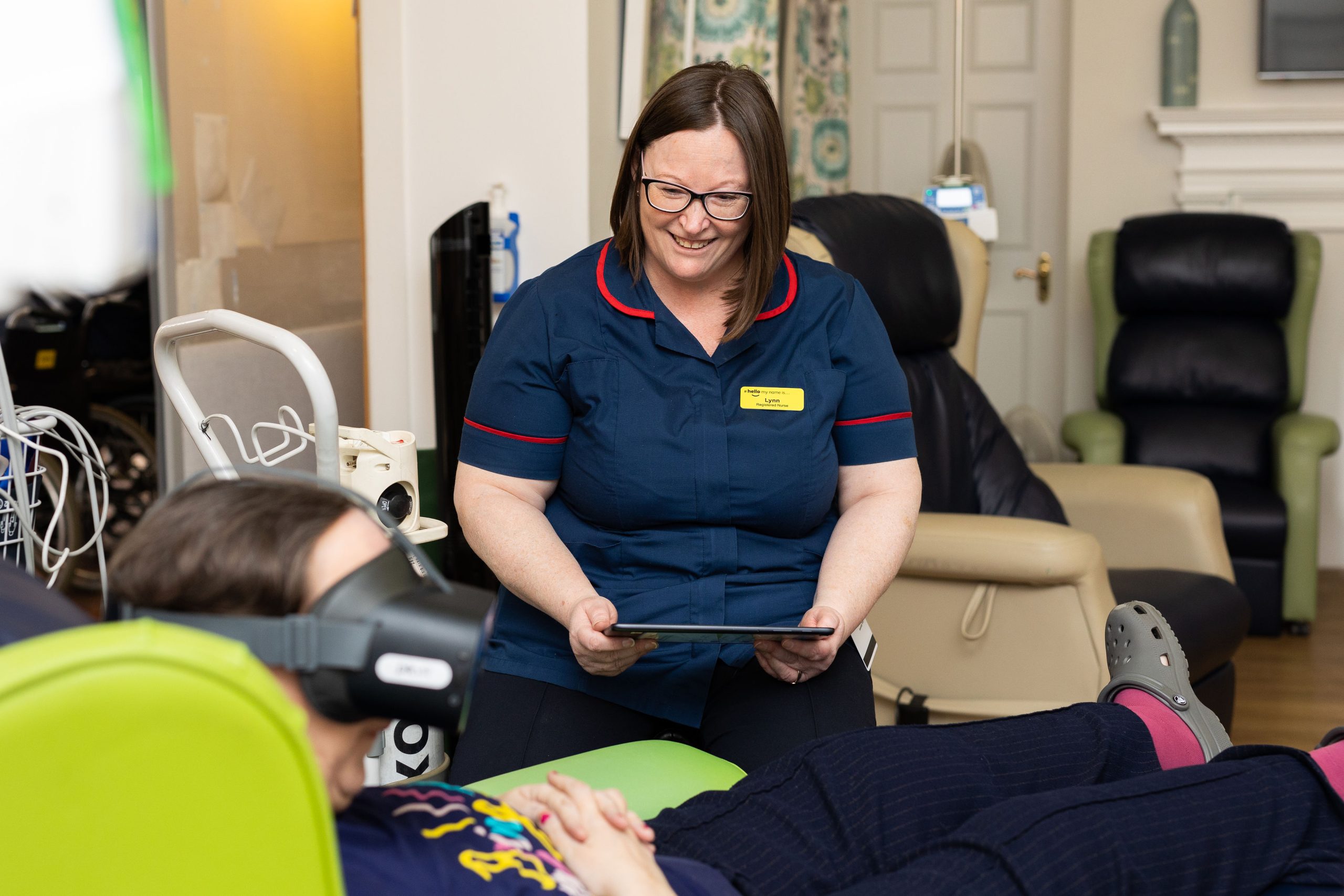 Backed by research
Studies into VR as an effective distraction and/or relaxation tool to help with pain and anxiety have been widespread in recent years. Over 8,000 studies have now been published specifically on the topic of VR and medicine and a systematic review of published works concluded in 2020 that 'Using VR decreases significantly the levels of anxiety, depression, fatigue, and pain.'*
*Ioannou, A., Papastavrou, E., Avraamides, M. N. & Charalambous, A. Virtual Reality and Symptoms Management of Anxiety, Depression, Fatigue, and Pain: A Systematic Review.
Impact of the VR Project
The project, taking place at Dorothy House Hospice has been using VR headsets successfully with patients experiencing pain and anxiety. To date the technology has been available to all day patients,  blood transfusion patients. Results have been so successful that the team are now investigating how to widen the reach and roll it out to the Inpatient Unit and into the community as part of Hospice at Home care.
Karen Tudge, Assistant Director of Patient & Family Services at Dorothy House said;
"The collaborative approach – combining Dorothy House's expertise with the technical skills and vision of the RUHs Immersive Technology in Healthcare team has been key to the success of this work.

Our mission at Dorothy House is to ensure everyone has access to outstanding palliative and end of life care. We always focus on what matters most to our patients, so offering a personal, accessible experience which is proving to reduce pain and anxiety is really exciting. This technology has a huge amount of scope, and we're really keen to see how it can benefit not only our patients, but also be more broadly applied to other areas of patient care."
Patients trialing the technology are showing improvements in pain and anxiety scores, and we are gaining positive qualitative insights through patient interviews. A number of patients have expressed interest in personalised experiences, for example going on a virtual walk around a familiar site, which they have visited in real life, such as Stonehenge.
Future plans
The next project phase is to pilot the RUH system which will enable the family or friends of patients to borrow a 360 camera kit to record and share favourite locations or activities. The recordings will be securely transferred to the cloud and be accessible by patients at home using personal phones or tablets, with or without an inexpensive plastic VR holder. This development will enable patients to experience truly personalised content which we hope will further increase the benefits of such immersive technology.
Funding and Support
This work was initiated by a 2021 one year National School of Healthcare Science Innovation Fellowship gained by Dr Darren Hart, a Clinical Scientist at the RUH. The support and accompanying funding (£15k) equipped the RUH with the tools to enable development of a pilotable system. In 2022, a further £35k was awarded by Hospice UK to Dorothy House Hospice, to pilot this RUH system and utilise immersive technology as part of service improvement (led by Karen Tudge). Darren has been helped by the NHS Clinical Entrepreneurs Programme which aims to support the healthcare workforce to develop and scale innovative ideas for the benefit of patients, staff and the wider NHS.
Our joint mission
The above projects are part of a wider RUH ambition to realise the abundant and exciting opportunities for patient and staff benefit at scale offered by immersive technology. In this objective, the work strongly demonstrates the RUHs values of: everyone matters, working together and making a difference.
For Dorothy House Hospice Care, offering innovative end of life care is part of our vision for a society where death is a part of life. By transforming attitudes to death and dying, we can create compassionate communities; together we can support everyone's right to live a meaningful life and have a peaceful death.