We are delighted to announce that our Young People's Ambassador, Jess Sheridan, has won the Young Volunteer of the Year category at the Hospice UK Awards!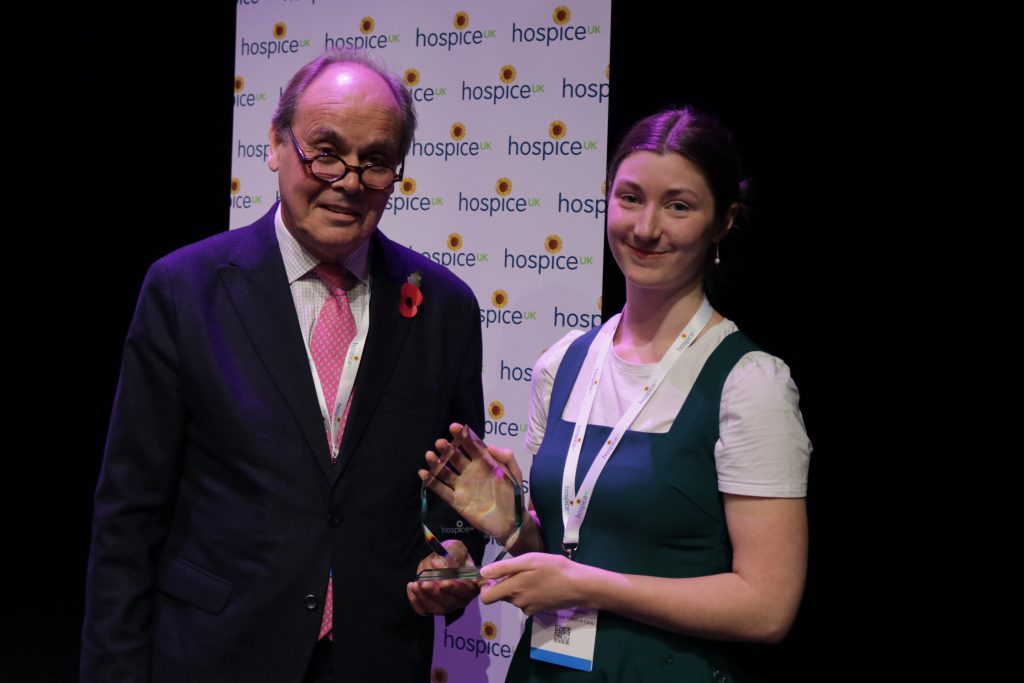 Jess's work as a volunteer for Dorothy House has been outstanding, and there were so many amazing examples of her dedication to include in the nomination application.
When presenting Jess's award, Toby Porter, CEO of Hospice UK said…
"Everybody knows how vitally important volunteers are to each and every hospice. Without their incredible dedication and support, the hospice sector would simply not be able to provide the excellent services that they do. Jess is a wonderful asset to Dorothy House Hospice, showing remarkable commitment to championing the hospice's work in her role as Young People's Ambassador.

By generously sharing her personal experience of losing her mum as a teenager, Jess has offered advice to other bereaved young people, acting as a role model and helping them to connect and support each other.

I am personally thrilled and moved to recognise your achievement Jess, as I was also supported by Dorothy House as a teenager, following the death of my father in 1985. I am in awe that you have become a Young Ambassador. Thank you, Jess, for you dedication and hard work."
Jess's reaction
Watch this video to hear Jess and her Dad, John's, reaction to her award.
Jess and Dorothy House
20-year-old Jess's mum died in May 2021. Cared for at home by Dorothy House's Community Palliative Care Nurses, Jess saw first-hand the vital role the Hospice can play at the end of life, both for patients and families. After her mum's death, Jess worked with Dorothy House's Family Support Team to navigate her own bereavement journey and now volunteers her time to support Dorothy House in a variety of crucial ways.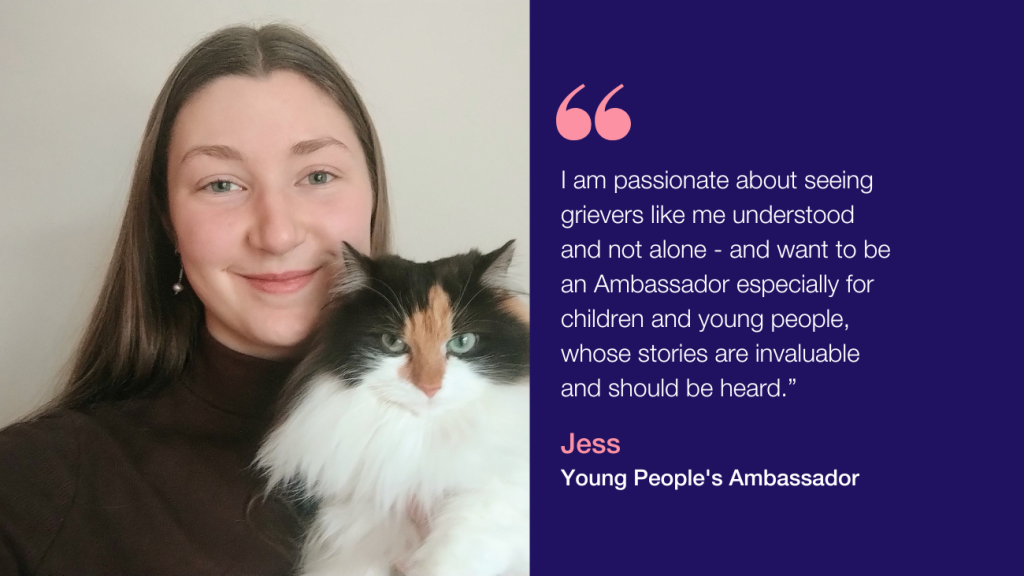 This year, Jess became Young People's Ambassador for Dorothy House. Our Ambassadors all have a personal passion for outstanding end of life care and use their unique influence, skills and experience to champion the work of Dorothy House Hospice Care across our 700 square mile patch; stretching over Bath & Keynsham, East Somerset, North Wiltshire and West Wiltshire.
Jess says:
"Since my Mum died, Dorothy House has supported me at every step. I am passionate about seeing grievers like me understood and not alone – and want to be an Ambassador especially for children and young people, whose stories are invaluable and should be heard."
Jess's work for the Hospice
Jess has been involved in a number of projects at Dorothy House, including the recently re-launched Dragonfly Project; an annual community education scheme that reduces anxiety and opens up conversations about death and grief.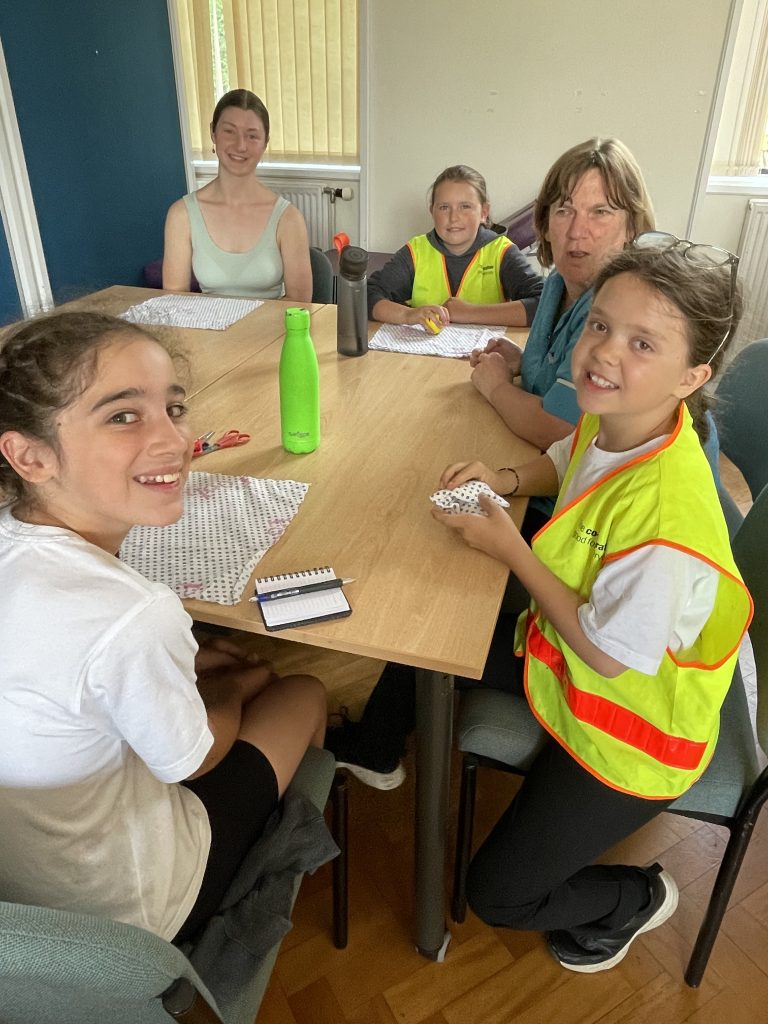 Alongside other patients and staff, Jess worked with Year Six children of Winsley Primary School to introduce them to the work of a Hospice – bringing us closer to the community and demystifying what we do. Jess attended the sessions as our Young People's Ambassador, taking part in the creative exercises, getting to know the children and talking about her experience of grief with them.
Part of Life
Jess also recorded an important interview for Part of Life, an independent national website created by Dorothy House and functioning as a space for the sharing of thoughts about death and dying. Its library of conversations, stories and wellbeing resources are designed to kick start important conversations about one of society's greatest taboos.

Encouraging schools to be better prepared for dealing with grief, and understanding the impact this can have on relationships and studies, is a cause Jess is championing since losing her mum. Last year, Jess participated as a facilitator at a pastoral training course hosted by Dorothy House at Monkton Combe School and attended by teachers and nursing staff from many schools in the local area. As part of the course, Jess talked about her own experience of bereavement and what support she wished she had received from schools and pastoral staff to help her through such a challenging time.
How Jess has made a difference
We are very grateful for Jess's support in working with schools to ensure they have the resources and knowledge needed to support bereaved young people in their care. The schools' training at Monkton Combe was a great success and it was vital that she was there to answer questions directly from teachers. Jess's presence added a lot of value to the training and was arguably the most important aspect of it. Her work advocating for support for young mourners in schools is ongoing with Dorothy House, and she will continue to help us communicate the importance of grief support in education in future planned in school training programmes.
As an Ambassador for Dorothy House, Jess is able to speak to a younger audience and has the vital life experience to represent bereaved children, families and the Hospice. In so doing, she is raising vital awareness of our vision and being pro-active in helping us achieve our goals. Perhaps most importantly, however, her presence at our events represents bereaved children and young people's voices in spaces where they would not normally be present, raising awareness of the need for more support and understanding for those experiencing bereavement and preventing the societal tragedy of hidden mourners.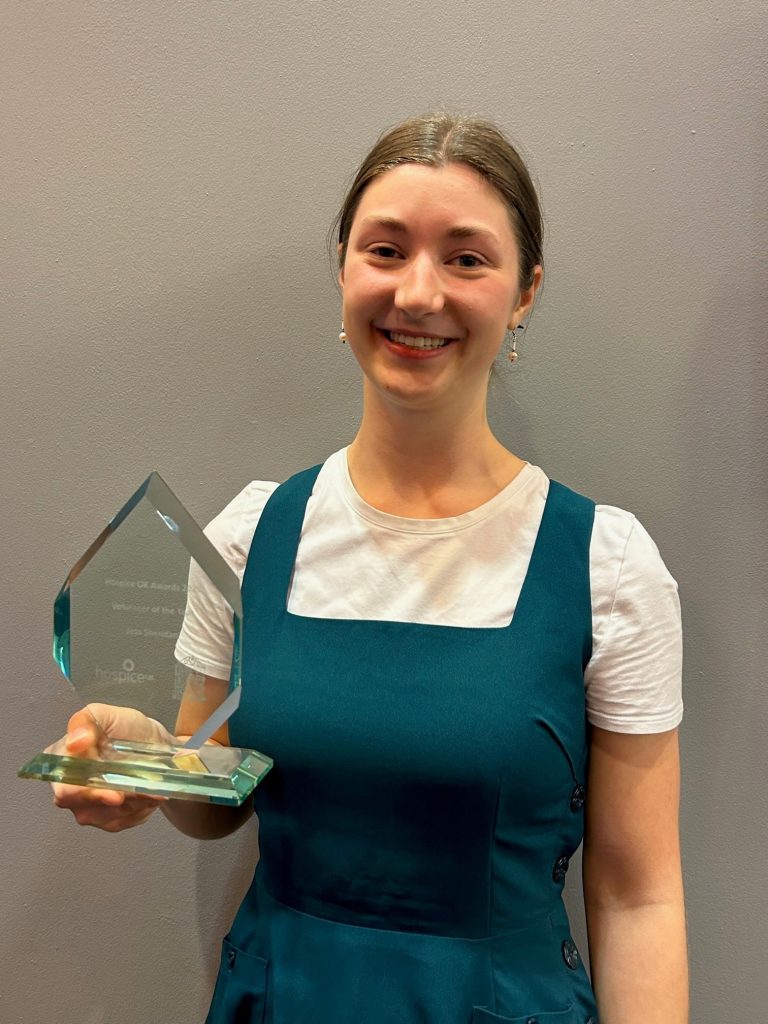 Jess's next award…
Not only has Jess scooped the Hospice UK Award, she has also won the Young Volunteer of the Year Award at the B&NES Community Awards 2023/2024! The award recognises her amazing contribution to the community in B&NES. You can read more about this award here.
Congratulations to Jess and a huge thank you for all your hard work and efforts on behalf of Dorothy House!