I'm Anne Montague, Psychological Support Lead at Dorothy House Hospice Care. I would like to invite you to dedicate a light on a Firefly for one year, in celebration of a loved one.
Each year we invite our community to dedicate a light on a Firefly, it is a wonderful way to create a legacy for a loved one, and reflect through a time of remembrance. Dedicating a light on a Firefly provides solace for both patients and family members, as well as our staff and visitors.  Your support also helps us raise these much-needed funds.

Our beautiful Fireflies are an art installation gifted to Dorothy House by local artist Bruce Munro.
Bruce Munro gifted the large-scale light art installation for Dorothy House in 2020. His collection of individually handmade Fireflies – each one a constellation of separate small lights – leaves a big impact. There is something incredibly magical and profound about walking through the Firefly Woods. It is your space to remember and reflect, and to celebrate life.

Dedicating a light on a Firefly can help us deliver more of our critical care to patients and their families. When someone is diagnosed with a life limiting illness, it is absolutely life changing for whole families. The need for our care continues to rise at a rapid rate, and we want to do more, but that requires additional funding.
My team is multidisciplinary, and focuses on supporting people's psychosocial and spiritual needs.  We do this with a dedicated team of staff and volunteers who work with patients and their families before the death of a loved one. We also continue to support family members for as long as they need us after death.
You can learn more about our Bereavement Services here.

We are also enabling everyone to experience the Fireflies online so that you can reflect and remember your loved one from afar, wherever you are. In so doing, more people will be able to access and enjoy this unique and immersive experience, become part of our Firefly community and support the vital work that we do as a Hospice.
For those that cannot travel to Winsley House, or those that would like to be able to experience the Firefly Woods from home, there are now fantastic new ways to do this.

Each year we host our Celebration of Life Events, and we would be delighted for you to join us in the early evenings of September 14 and 16, when we will have a harpist, guest speaker and light refreshments. You can take time to visit your Firefly light, to reflect and celebrate the life of your loved one. These evenings bring our Firefly community together, and if you choose to do so, you can meet others who have dedicated a light on a Firefly, and who share the experience of a loved one dying.
All are welcome to visit Firefly Woods at Winsley House as a space of reflection. In order for us to maintain the privacy of our patients, please park in the bottom car park and only enter the woodland via the southern path from the middle car park.  Thank you.
You can get your FREE event ticket here.

The Fireflies are a beautiful way of giving, and they also give back.
This was certainly the case for Joanna Morgan, who has so kindly agreed to share her story with you. Joanna's husband Alun died at Dorothy House in April 2022. She explains why she chose to dedicate a light on a Firefly to Alun, and what it means to her.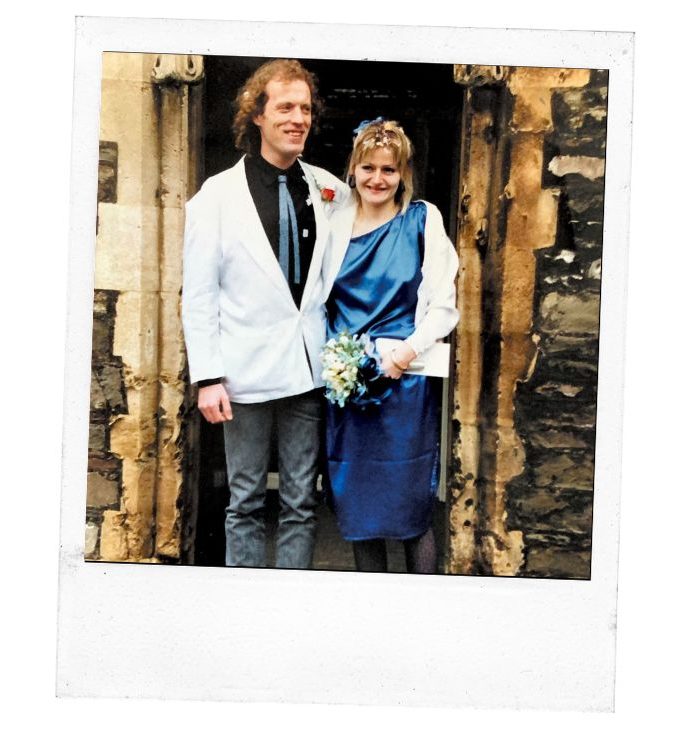 'While I am not religious the Fireflies seem to symbolise life and hope, they blow in the wind in the beautiful woodland setting and feel so peaceful and positive.  The darker it gets the brighter they shimmer, which seems to somehow help normalise death.
Our Firefly light is both a legacy for Alun and a way of ensuring the work at Dorothy House can continue, a wonderful way of both supporting and remembering. I would urge everyone to support Dorothy House and dedicate a light on a Firefly – they are very powerful and so beautifully collaborative.'

I would be delighted if you wanted to join our Firefly community and I truly hope you find it a place of peace and comfort. Your space to visit, both in person and from afar, whenever you need to, and your dedication helps us to continue to add life to days and to provide the best possible care to our patients and their families.
I hope to welcome you at one of our Celebration of Life Events in September. Thank you.
Firefly FAQs

General

Who is Bruce Munro and what are the Fireflies?

Local artist Bruce Munro is an award-winning artist who creates beautiful, immersive, light-based art installations all across the world. In 2021 Bruce created Firefly Woods for Dorothy House in the grounds of Winsley House, a mindful way of remembering a loved one and supporting our work. We are so thankful to Bruce for sharing his art with us and creating a space for our community to celebrate life.

What am I dedicating?

Each dedication is a light on a Firefly. There are 24 lights on each Firefly and there are currently 400 Fireflies, with 400 more being gifted by Bruce Munro and his team that will be installed at Winsley House before our Celebration of Life Event this year.

We offer our community the chance to dedicate a light on a Firefly for one year, in celebration of a loved one.

When I have dedicated a light, what should I expect?

Once you have dedicated a light you will receive your thank you letter with a map of the Firefly Woods, as well as your personal dedication card that will have your Firefly light location on it.

When can I visit my Firefly light?

You are welcome to visit your Firefly light anytime from the point of dedication. We ask that you remain respectful of the patients and staff as you visit the grounds. We also ask that you visit the grounds in daylight hours unless supervised with permission from the fundraising team, the woods are natural and the path through the woods is uneven, so we ask that you do not visit the woods in the dark.

Am I allowed to bring other loved ones to visit the firefly?

Yes, you absolutely can. We welcome you here at Winsley House.

Can you move around the fireflies?

Yes, you will be able to walk through the woods and view all of our wonderful Fireflies. There are clear paths through the woodland area, we do ask that you stick to the path where possible please. There are cables that can get damaged if you accidentally step on them.

Can I touch the fireflies?

 We respectfully ask you not to touch the Fireflies, they are a delicate art display.

Can I leave anything with my light?

We understand that this is a lovely thought, but we ask that you do not leave anything behind with your Firefly light. If you would like to discuss this further pleased do not hesitate to get in touch with our fundraising team.

Is there a minimum amount needed to dedicate a light?

No, there is no minimum donation amount to dedicate a light. We would like everyone to have the opportunity to dedicate a light and enjoy the Firefly Woods. Any donation is so welcome and very gratefully received.

Where does the money go?

All money raised through the Firefly Appeal will go directly to Dorothy House to help us provide more patient and family care to our community.

When will the additional 400 Fireflies be ready to see? 

We are so thankful to Bruce and his team for offering to install an additional 400 Fireflies. The team will be working hard to have these installed and ready to view in time for the Celebration of Life Events this September. You can of course visit the amazing Firefly Woods now, and if you join us in September you will be able to see all 800 Fireflies shining brightly together.

 

Digital

How do I access the webcam and virtual walk?

You can access both the webcam and the virtual walk via our website, just search for Firefly on our home page.

I understand that the webcam is running 24 hours a day, will this store any data?

Please be assured that although the webcam captures a live feed, this is not recorded and no data is stored from the feed. You can visit the Firefly Woods without passing through the webcam feed, and this is clearly signposted in the section of the woods where it is operating. You can find out more about this via our privacy statement here.

Do I need to log in to anything to access the webcam or virtual walk?

No, this will be available on our website for you to use as and when you wish.

How do I purchase a NFT?

You can do this by adding this to your online donation via the online donation form. If you have any issues with this at all you can call our fundraising team at any time – 01225 721480. An NFT is charged at £50, with 95% of this fee going directly to Dorothy House. Once you have purchased your NFT you will receive a separate email with your link to redeem your virtual piece of art.

I would like to come to the event – how do I book a ticket?

Our event is free of charge, but we do need to know who is attending so we are asking you to book through Eventbrite. You can follow this link, but you will also receive these details once you have dedicated your light. https://fireflywoods23.eventbrite.co.uk

When are the Celebration of Life Events?

Each year we host our Celebration of Life Events, and we would be delighted for you to join us. This year we will be running two events in the early evenings of September 14 and 16, when we will have a harpist, guest speakers and light refreshments. You can take time to visit your Firefly light, to reflect and celebrate the life of your loved one.

What can I expect from the event?

The event will be intimate and peaceful. The event lasts for approximately one hour, we will have guest speakers and a harpist. You will have time to visit your Firefly light and take time to celebrate and remember your loved one in a safe and welcoming environment.

When do the events start and end?

The events will start at 6.30 pm and end at 7.30 pm. We're very much looking forward to welcoming you to Firefly Woods for these special evening celebrations.

Are there any access issues I need to know about?

All of our event details can be found on our Eventbrite ticket page. If you have any concerns or special requirements, please do let us know by calling the fundraising team on 01225 721480

I have a question that is not covered here – who do I contact?

If you have any further questions, we are so happy to help – please email our Supporter Care Team on supportercareteam@dorothyhouse-hospice.org.uk or phone 01225721480