Combine a bucket list experience with raising vital funds for Dorothy House to help us to continue to deliver outstanding care. You'll be attached to an experienced instructor for a tandem skydive jump and they control the free fall, parachute opening and landing so you can just enjoy every second of this amazing experience. Your friends and family can all watch as you take on the challenge of a lifetime.
We also run a Jump for Free Scheme allowing you to fundraise and use a portion of your sponsorship to cover the cost of the jump. Sign up to skydive here.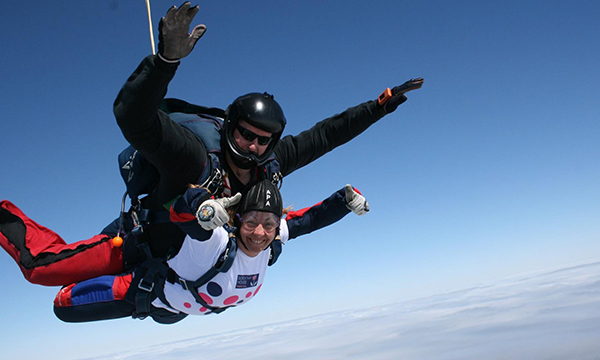 We provide compassionate care and support for people in our community with a life-limiting illness. Our focus is on quality of life, helping patients to live well and die well.
We give care and support to patients and their families across a 700sq mile area, which includes Bath & North East Somerset (B&NES) and parts of Wiltshire and Somerset.
Our services are provided whenever and wherever they are needed; at home or in the Hospice. We respect the uniqueness of each patient and their family, and empower them to choose the type of care they receive.
For any questions or if you'd like to hear more information, please drop us an email at communityfundraising@dorothyhouse-hospice.org.uk or give us a call on 01225 721480
Jump for free!

You pay a deposit of £50.

You then have a fundraising target of a minimum of £395.

We receive a minimum of £145 and anything raised over your £395 target comes straight to us!
Book now!

Head to our Dorothy House page on the Skydive Buzz website here.

Make sure to select the Jump for Free option when offered if you'd like to make use of the scheme.