Bath ASU coffee machine initiative raises over £20,000 for Dorothy House!
Bath ASU have implemented a brilliantly simple fundraising scheme for Dorothy House through every cup of coffee they sell to staff at work.
The daily coffee grind
Bath ASU's high-end coffee machines are placed in each canteen on site. They are bean-to-cup machines, providing a delicious cup of coffee using freshly ground beans at the touch of a button. The machines charge just 20p for any hot drink, and staff can use their card to pay in the knowledge that every penny will go to Dorothy House.
Payment is taken using a cashless payment solution, which gives Bath ASU a statement and a payment at the end of each month. The total amount spent is then donated directly to Dorothy House. With over 450 staff, and 350 of them based on site at Corsham Science Park, that's a lot of people buying coffee!
The coffee machine fundraising scheme couldn't be easier to run. Once the machines and payment platform are set up, it's just a case of making one monthly donation. And drinking plenty of great coffee of course.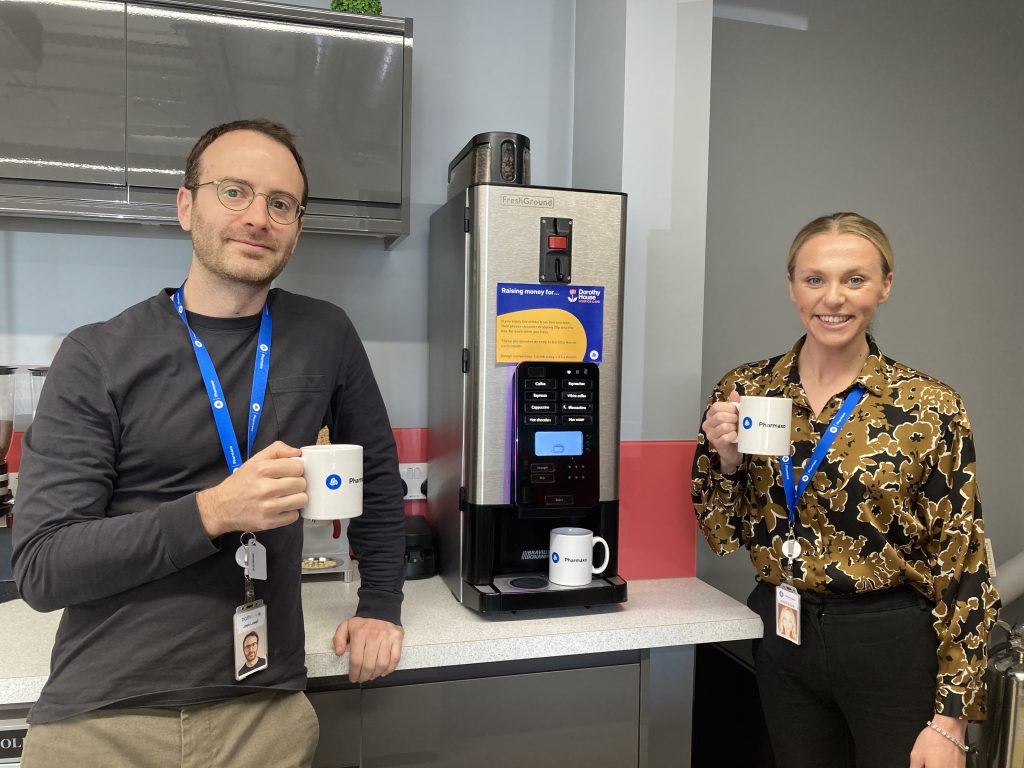 Why did Bath ASU decide to support Dorothy House with their coffee machine fundraising?
"It helps engage our team members directly in supporting Dorothy House, it makes it more active and personal. It is also easy, 20p is great value for a proper cup of coffee and all the cash goes to DH – literally no sweat!

It's also great for our staff. The machine does provide several different coffee options, from a punchy espresso to start the day, to a frothy latte to enjoy with your mid-afternoon biscuits. But it also has a very popular hot chocolate option, because sometimes you just need a chocolate hit.

We think more coffee is purchased because staff know it is going to a good cause. It's a good deal and is well worth the 20p, even without the donation aspect. But since it is also a charitable act, there's no reason not to treat yourself and do a little good at least once a day."
What does it mean to Bath ASU to be a supporter of Dorothy House?
"Every day we make injectable medicines for people fighting cancer all over the UK, amongst other things. We supply our local and regional hospitals meaning we are making those medicines for our neighbours, our families and sometimes ourselves.

They don't always deliver a cure, and when they don't, we all need a palliative care team like Dorothy House to support us. We are often part of the same care pathway."
At Dorothy House we provide a number of different palliative care services to support our community. Our 12-bed Inpatient Unit at Winsley is a comfortable environment with dedicated medical and nursing care. Our Hospice at Home service supports patients and their families in their final days, regardless of whether the patient lives alone or with others.
Meanwhile, our ten Community Palliative Care Teams work out in the community, caring for patients at home in a specific locality, consisting of health professionals with a mix of complementary skills. These specific areas include, North Wiltshire, Bath & Keynsham, West Wiltshire and East Somerset. They also coordinate patients' care with our wider hospice services and liaise with local volunteers to ensure patients and families receive practical and social support.
Thank you to Bath ASU!
We are so grateful to Bath ASU for their ongoing donations and for choosing us as their charity to support with their coffee machine fundraising. Without our supporters and their donations, we wouldn't be able to provide the exceptional care we always aim to deliver to those in our community with a life limiting illness.
Corporate partnerships – Work with us
Working in partnership is critical.  Together, we can support everyone's right to live a meaningful life and have a peaceful death.
All of our partners are valued for their contribution and commitment – regardless of size or sector.
You may have an idea or you may have no idea about what a corporate partnership means to you and your company.  But please get in touch and we can create a bespoke plan to make it simple for your staff to support a local charity.