Embracing nature at Winsley House
Our holistic approach to care means that we prioritise wellbeing, relaxation, and independence for the people we support in our community. Alongside traditional medical support for patients, we offer Complementary Therapy, and weekly Serenity sessions to promote relaxation and wellbeing. Not only this, but our unique, natural setting benefits patients and their families too.
Wellbeing at Dorothy House also extends to our staff and volunteers.  Now more than ever, workplaces are putting more focus on mental health and wellbeing. In fact, since the pandemic, 81% of workplaces have increased their focus on employee mental health. Given that poor workplace mental health costs UK employers around £56 billion every year, it's easy to see why more companies are making it a priority. As members of Mindful Employer +, Dorothy House is committed to the wellbeing of our workforce, with supportive measures in place for anyone experiencing anxiety, stress, depression, or any other mental health condition. This includes a confidential helpline for all staff and volunteers, and an employee counselling scheme. Ultimately, the team at Dorothy House supports staff to support patients and their families.
Alongside these supportive measures, we also encourage small, daily actions to improve general wellbeing across our teams.
Wellbeing in the workplace
For those of us who work at Winsley House we're incredibly lucky to be surrounded by nature and have a stunning view of the valley below. Our wellbeing walks take place weekly, led by a few members of our team, and anyone is welcome to join. These walks allow staff and volunteers to take 20 minutes out of their day to get away from their desk, catch up with colleagues, get some fresh air, and most importantly, enjoy a few mindful minutes. Nature nurtures the mind and has the unique ability to help us reset and restore.
Similarly, our Gardening Team host regular tours around the grounds which anyone is welcome to attend. Led by Head Gardener, Rob, it provides an opportunity for our community to learn more about what our volunteer gardeners have been up to when it comes to keeping Winsley House looking beautiful, and perhaps even pick up a few gardening tips!
Plant power
Alongside gardening tours and wellbeing walks, many of our teams are bringing the outside in . It's widely known that bringing plants into offices can be hugely beneficial, with findings across numerous studies including improved air quality, increased productivity, and a potential reduction in stress levels. Indoor planting and nature are central to the interior design scheme behind the forthcoming refurbishment of our communal areas – good news all round!
Embracing the holistic approach
The power of nature also places a key role in our care. All the patient rooms on our Inpatient Unit (IPU) have beautiful views and are wheelchair accessible, allowing patients to enjoy the relaxing and peaceful nature setting, and our Day Patients can also take part in Creative Arts sessions accompanied with the view of the grounds. The grounds at Winsley House were also the inspiration behind our patient property bags, designed by Kate Bond.
"When you're ill, you don't want to be looking at motorways or anything else. I can go out in the garden and sit and enjoy the tranquillity, which to me is very important. You can close your eyes and listen to the birds. It's very simple, but it counts for a lot when you're ill." Dorothy House patient on his IPU stay, 2023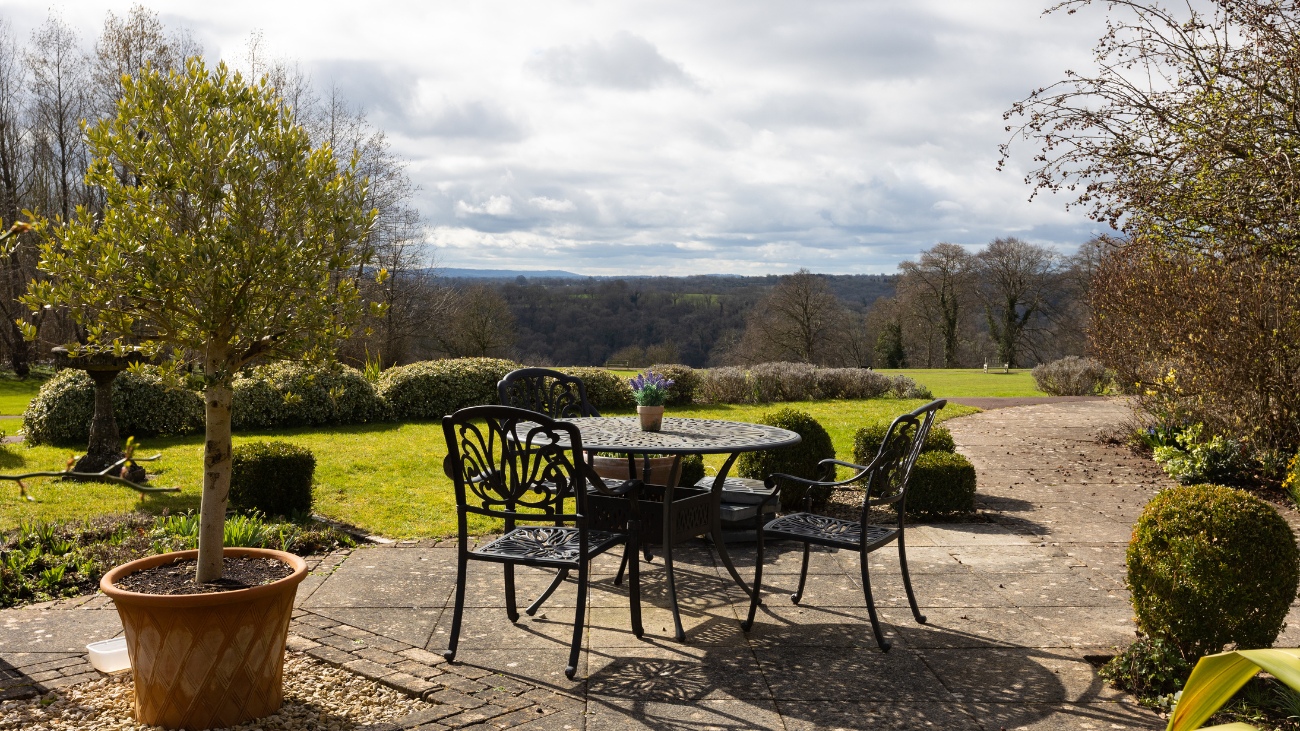 We recently shared details on the award-winning virtual reality (VR) project, a collaboration between Dorothy House and theRUH in Bath. This exciting project aims to trial the use of VR to reduce symptoms and improve relaxation in our patients, providing immersive videos that virtually transport them outdoors. Currently, this technology is available to our day patients, respite and blood transfusion patients. Results have been so successful that investigations are underway to widen the reach and roll it out not only to our Inpatient Unit, but also into the community.
Firefly serenity
Of course, we don't just care for patients at Dorothy House, we care for the whole family. Our grounds can also be a source of comfort and peace for loved ones, both before and after a patient has died. Our beautiful Firefly installation at Winsley House is designed to be relaxing and peaceful place for remembrance and reflection. Gifted by award-winning local artist Bruce Munro, each light on a Firefly represents the life and soul of a loved one, a light that never goes out. In addition, the Fireflies give something back, with every dedication helping us to provide care to the patients and families who need us.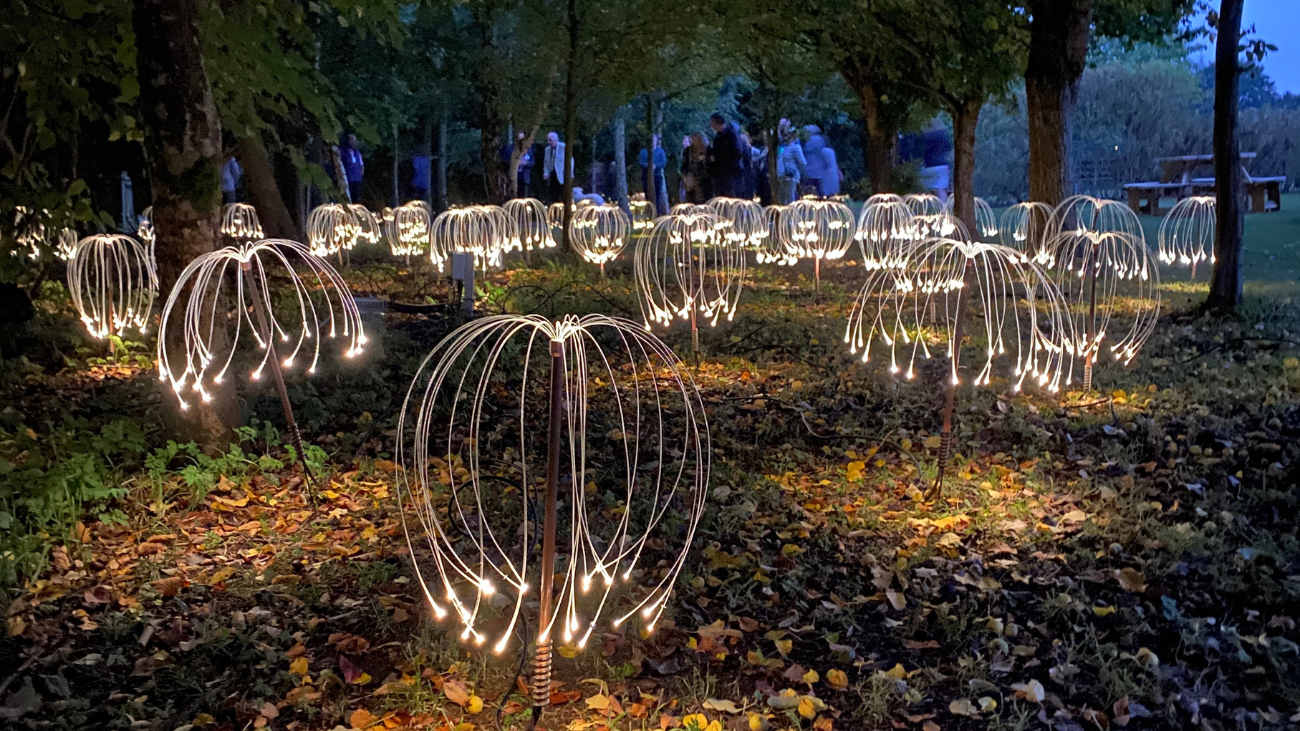 This year, we are expanding Firefly Woods, which will allow more people in our community to experience this magical installation. Not only will the number of Fireflies in the woodland be doubled this year, but we have also introduced new ways for our community to get involved. Our live webcam feed allows people to spend time among with the Fireflies at any time, from wherever they are, and our 360 virtual reality tour provides a fully immersive experience.